Shishkin recorded his second success at The Festival™ supporting WellChild when taking the Grade One Sporting Life Arkle Novices' Chase by 12 lengths.
The Marie Donnelly-owned seven-year-old landed the Sky Bet Supreme Novices' Hurdle 12 months ago and was too good for his four rivals.
Trainer Nicky Henderson, winning the contest for a record seventh time, said: "You always hope for it but you can never expect it. It is a strange place today and it's going to be a strange week. It still doesn't make it any easier watching them – it still gives you the same feeling. A winner is a winner here and they are very special.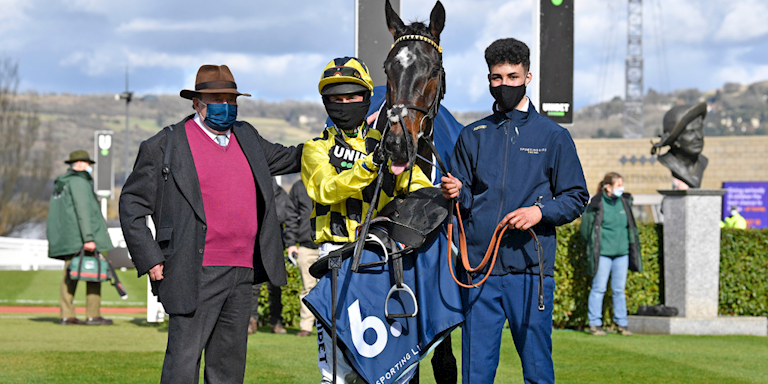 "We always knew there was going to be that (plenty of pace). We certainly knew Allmankind was going to be up there but I didn't know the other horse (Captain Guinness) was going to take him on there. They were going to make sure it was a very genuine gallop.
"He has got a high cruising speed and he was always able to sit on their tails and he came wide but he had plenty of horse from two out so he let him make his way home but he was impressive the way he came up the hill.
"How lucky can you be? We came through the great days when Sprinter Sacre won it, he came through then Altior followed him, who sadly can't be here this week but having said that, though Altior hasn't gone and he will be back, it is extraordinary to think you can find another one.
"He did today look as good as either of the other two. He has got a long way to go before he comes into the same breath but you couldn't have asked him to do any more than that today. We were schooling him on Thursday and AP (McCoy) was with us and he was nearly hurdling these fences. He is very, very quick from A to B – it frightens you a little bit.
"You would nearly say you would like to see a bit more height but it doesn't worry me – he is just very fast. He always been that way. He looks like a chaser and he acts like one. He is definitely a two miler and I don't think you need to go any further he is just very natural at it. It is nice to get that one on the board as it settles everybody down a bit.
"There is still work to be done but we can really box on. We will have to think (if he runs again) – why not is the answer. Experience is good. He has only had three chases and we've not asked him too many questions up until now.
"He hadn't really beaten anything and he had only been on flat courses. That is first time he has been asked a big question and when you see an answer like that you have got to think about Aintree probably but that would be the only place he does go. It is a short break this year.
"It is easy to say he didn't look like he had a hard race but even without the atmosphere what takes so much out of the horse is the adrenaline. He has still had a proper gallop today."
Winning jockey Nico de Boinville told ITV Racing: "I'm absolutely over the moon, I'm just delighted to be on a horse such as Shishkin. His profile is just amazing and he's a fantastic horse. Thank you to [his owner] Mr Donnelly and his family – they've been really good to us, and I'm delighted to be here with the sun out."
When asked just how good he thinks Shishkin could be, the de Boinville added: "After that performance, you could say that he will be anything. It's a massive shame that Energumene didn't come over – hopefully he will be alright with the season to come.
"I felt Shishkin was in fantastic form today, the team at home have done a wonderful job. He would have taken a lot of beating today.
"I would say he is very versatile. Let's not pigeon hole him to trips at the moment. That was a really hard, fast-run, two-mile race. No prisoners were taken."
Jaydon Lee, the groom responsible for Shishkin also told ITV Racing: "He is one in a million, I love him to pieces every day. It's just amazing to look after him. He is fairly quiet [at home]. You wouldn't really notice him in the string. But by God he's got some engine."
Colin Tizzard, was delighted with his 33-1 runner-up, Eldorado Allen: "Finishing second in the Arkle is lovely. We left it until the last minute on Sunday to make a decision as he was in the handicap as well (Grand Annual). You look back and think perhaps we should have gone for the other one, but Shishkin won it easily and we were so chuffed he stayed on. It looks as though he's a stayer and we'll have a go at Aintree next I would have thought.
"If there would have been 15 in this race we would have gone for the handicap, but when we declared there was only five, so it was just lovely to get second. We've had a hard-ish season, but he's done nothing wrong all year and he was probably the same distance behind the winner there as he was at Doncaster. Shishkin's a very good horse, and there's a very good chance we'll go for the novice at Aintree now."
Eldorado Allen's jockey Harry Cobden added: "That was a lovely run, I think the couple in front of us just went very hard from the start and after halfway round I just half-rode him to finish in the best possible position really and try save a bit for the hill because you know what it's like, you turn in and your fuel gauge is empty and you don't get too far. But he stayed on really well and I'm just delighted with the run.
"Obviously when there's only five runners every horse has got a chance, but I thought Shishkin was going to be very hard to beat, so I'd have been delighted if you'd have said at the start of the week that he'd finish second in the Arkle – you'd certainly take that."
Henry de Bromhead, trainer of third, Captain Guinness: "He was a bit too keen but ran really well. He jumped great and galloped to the line, so I'm delighted with him. He won't come back for Aintree. If anything, he'd go to Punchestown."
Jockey Rachael Blackmore added: "He was too free everywhere unfortunately. He's a really nice horse but he just did too much."
Dan Skelton, trainer of fourth Allmankind; "He's run well and I'm proud of him. It was a solid run and he tried hard and jumped brilliantly the whole way. He was a bit wrong at the last, but he kept his head up and just tired up the run-in because he'd given everything.
"We put it out there and we didn't leave anything behind, but the winner is an exceptional animal. We'll give Aintree a go, and you'd think he'd love it around there, but how much a hard race in the Arkle has taken out of him remains to be seen."
1st – Shishkin – Nicky Henderoin 7-11-04 Nico de Boinville 4/9F
2nd – Eldorado Allen – Colin Tizzard 7-11-04 Harry Cobden 33/1
3rd – Captain Guinness – Henry de Bromhead IRE 6-11-04 Rachael Blackmore 10/1
5 ran
Distances: 12, 1
Time: 3m 53.36s
Winner owned by Marie Donnelly
Breeder: CJ & EB Bennett
Breeding: b g Sholokhov (IRE) – Labarynth (IRE) (Exit To Nowhere)
Nicky Henderson – 69th winner at The Festival™ supporting WellChild
Nico de Boinville – 12th winner at The Festival™ supporting WellChild